Sylvia Young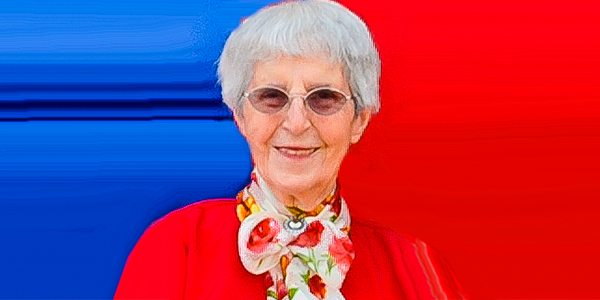 "Everything they do at APU they do with class!" So said Sylvia Young. She and her late husband, Bob, believed fervently in APU and could see God at work in young people who are spreading the great news of the Gospel. They admired the high standards set at APU where students were readily told what was expected of them. They appreciated the bond that exists between the faculty and students at APU and found joy in APU's motto of God First.
Sylvia, from Chicago, and Bob, from New Mexico, met as students at Pepperdine University and later married. They had two daughters, Judy and Lori, and the family settled in West Covina where Sylvia taught elementary school in the West Covina Unified School District for 23 years and Bob pursued law. Judy followed her mother's profession as a teacher until her death in 2005, and Lori, who followed her dad's profession, practices law in San Diego.
Bob was emboldened by members of his community to run for the position of judge and successfully served as one for 20 years. Even after his retirement, he served as an appointed judge in Southern California for another 20 years. He worked tirelessly right up until two weeks before his death in 2008.
Bob and Sylvia found a home in the Community Presbyterian Church of West Covina where they attended for more than 50 years. Sylvia was a vibrant leader who founded Seeds of Power, an outreach ministry for the community offering outstanding speakers. Sylvia passed away at the age of 90.
The Young's interest in and attraction to APU began more than 30 years ago when Sylvia was invited to become a member of the Azusa Pacific University Scholarship Auxiliary-a group whose purpose is to provide scholarships to a diverse, highly qualified student body by developing fundraising events and activities.
APU then became a family affair when Judy attended and received her teaching credentials. Even after she began teaching Judy always felt she could contact the faculty in the School of Education at APU and get the answers she needed. Bob was invited to join APU's Board of Trustees and immediately fell in love with the university because of its high standards, caliber of students, and outstanding faculty. He served on the board for 10 years.
Bob and Sylvia Young invested in APU through charitable gifts, tax-sheltered annuities, and scholarships believing "the students are our hope for the future." APU is privileged to have had this man and woman of Christ as our friends. They can truly be described as ambassadors for APU.