Gifford and Wini Claiborne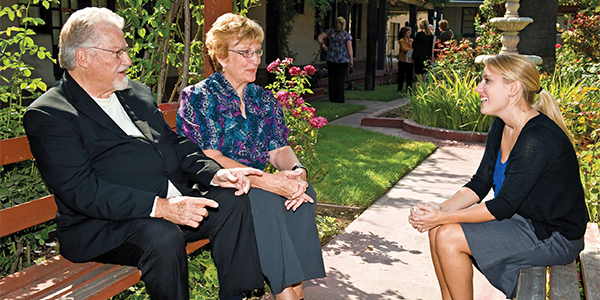 Gifford and Wini Claiborne have one descriptor for Azusa Pacific University: "amazing." The university is amazing to them for a multitude of reasons. The tradition may have started with Gifford's father graduating from The Training School for Christian Workers-now known as APU-in Huntington Park more than 70 years ago. Wini's interest in APU began as a teenager when she heard the amazing choir in her hometown of Orangevale, California.
Both were raised in Christian homes, and accepted Christ as young children. They found their way to Azusa College where they met, married, and graduated in the early 1960s. Their three children attended the university (two graduated), and now their granddaughter, a recent graduate, represents the fourth generation of Claibornes at APU. Their son-in-law also teaches philosophy on campus. The family's legacy is sure to continue with Wini and Gifford's grandchildren, who they sometimes bring to campus to attend chapel. They love getting caught up in the excitement of the message and the music, and being around young Christian people.
Wini considers APU's chapel services the university's greatest strength. She believes the longstanding testimony of the commitment to making God First at APU is fundamental to the university's phenomenal growth, its prominent influence in the secular and Christian communities, and the high standards of rigor and quality in APU's academic community.
Music is the couple's passion and ministry. Wini plays the piano, and both of them sing. She taught in public and private schools, and at Yamaha Music School in Southern California for four years. Gifford traveled around the country for 10 years with his brothers in the Claiborne Brothers Quartet. Through this experience, he learned the basics of fundraising while raising money for the group's travels. Most of his career was spent in fundraising, which he is still very involved in today.
Generosity is a trademark in the Claiborne family. In addition to raising their own three biological children, they invited seven foster children to become members of their family through the years. With that same generous spirit, Gifford & Wini set up a charitable remainder trust at APU years ago. They made a donation of real property, which gives them an excellent return of seven percent each year, and provides income for life, with the remainder going to the university upon their death. Their donation is a guaranteed return on their investment, and they can always count on APU because of its proven strength, longevity, staying power and bright future.
The Claibornes-members of APU's President's Council and the Cornerstone Society-believe that whenever you give to the Kingdom of God, you've done the right thing. "We have a responsibility to be generous, and an opportunity for our donation to go on in perpetuity will impact the lives of many in the future." Wini & Gifford have never forgotten that they were recipients of scholarships when they attended Azusa College. Their wish is to see their investment assisting students for many years to come.
APU is "amazing" to the Claibornes, but the university could just as easily use the same descriptor for them. A milestone in the history of APU came in 1965 when Gifford was invited by Azusa College to come and recruit 30 students in a year. He recruited 300 in six months. That year, Azusa College's student enrollment doubled from 300 to 600. Now that's amazing.