Betty Fonteno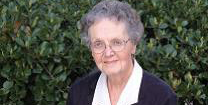 John and Betty Fonteno met at Lincoln Heights Four Square Church in Los Angeles and attended there for 65 years. They were married in 1947 after John returned from World War II. Their only son, Don, passed away more than 30 years ago and John, her beloved husband of 57 years died in 2005. But today Betty is surrounded by the love of her family, which consists of three daughters - Sheryl, Joyce and Janice - and their families. She's very proud of her 11 grandchildren and 13 great grandchildren.
Betty and her late husband, John, have been faithful in their donations to Azusa Pacific for many years. Their goal was always to assist needy students through scholarships. "Scholarships are where my heart is, and it's so fulfilling to have this opportunity to enable these students to get a Christian education," Betty said. She knows the impact APU makes on the lives of students, because three of her children, three grandchildren and a nephew graduated from APU. Sheryl Patton, the first daughter to graduate from APU, served as a member of the APU Board of Trustees for more than 15 years.
Betty believes APU's greatest strength is that it puts God first. "God's blessing on APU has been incredible. To hear the testimonies of those who attend and the impact the university is making in their lives brings great joy to me. APU's Christian influence is making a difference in the world through daily, business and family life."
Betty possesses a unique and beautiful talent that has carried her through the years. When she was a student at Life Pacific College she began to memorize Scripture verses and to this day can quote numerous passages from the Bible. It's been such a comfort to her- not only during the "Chicken or Feather" weeks in their business, and the losses of loved ones, but also in her daily life. One of her favorites, which she quickly quotes from memory, is 1 Corinthians 10:13: "No temptation has overtaken you except what is common to mankind. And God is faithful; he will not let you be tempted beyond what you can bear. But when you are tempted, he will also provide a way out so that you can endure it."